Some of my earliest memories are from the mid 1950's when my family lived with my great uncle George Heslop and his second wife, 'Auntie' Jean at 149 Kambrook Rd, Caulfield. My father was building our new house in Moorabbin at the time and the Heslop's kindly took in my family as guests during the construction of that house. I remember fresh bread and milk being delivered along Kambrook Rd. by horse drawn carts. Caulfield Racecourse was just across the road.
George, a veterinary surgeon, worked there (and on all the other Melbourne racecourses) as a stipendiary steward with the Victoria Racing Club for half a century! George Gordon Heslop grew up with his brother William on his parents property "The Wattles" at Powlett River in Gippsland, Victoria, Australia.
His paternal grandfather Samuel had settled in Victoria after emigrating from Rathfriland, Ireland while his maternal grandfather, A.R. Noble hailed from Halifax, Nova Scotia. The following 1907 newspaper story featuring George is of particular interest to me. I now live in Tasmania where the Tasmanian Tiger has long been considered extinct.
Is It A Tiger? Alarm In South Gippsland
Great excitement and alarm has been caused in the Powlett River district by the discovery of what are believed to be the tracks of a tiger in the scrub covered sandhills between Powlett River and Cape Patterson. For some time past Mr. George Heslop, a local grazier, has been losing sheep which have apparently been carried off by some animal. Mr. Heslop suspected dogs and laid baits and traps. A dog was caught but sheep continued to disappear. A few days ago an employee of Mr. Heslop discovered the tracks of a very large animal leading to a watering place at the foot of the sandhills. These tracks were carefully examined by Mr. Heslop and members of his family and they were found to resemble, both in their relative positions and shape, the footprints of a great cat. Daily these tracks were obliterated by Mr. Heslop and each morning fresh tracks appeared. A hunting party was organised with difficulty. Residents of the district did not relish the prospect of an encounter with what is widely believed to be a tiger, notwithstanding the courageous example set them by Mrs. Heslop who accompanied the party.

The sandhills are covered with a dense high scrub and the party were not successful in tracking the beast to it's lair. Watches have also been set without avail. Mr. Heslop, armed with a rifle, has spent a good deal of time watching the spot and one afternoon he came close to shooting his dog as it rustled out of the thick scrub.

Mr. Heslop last week took a plaster cast of one of the footprints and Mrs. Heslop, who is presently in Melbourne, showed it to Mr.W.T. Kendall the well known veterinary surgeon. Mr. Kendall pronounced the footprint, which measures 6in. by 5in. too large to be that of any dog and advised Mrs. Heslop to submit it to Mr.D. LeSouef of the Zoological Gardens. Mr. LeSouef found the impression too imperfect to enable him to form any definite opinion as to the character of the animal. When Mr. Heslop took the cast the sand had drifted a little and consequently the impression was somewhat blurred. The footprint was however, said Mr. LeSouef, a very large one. Since the tracks have been discovered Mr. Heslop has taken a setter dog and a St. Bernard to the waterhole and their tracks are described as looking tiny beside those of the supposed tiger. Mr. LeSouef points out that the feet of the wild dog develop to a much larger size than those of his domestic cousin and, on the whole he is not disposed to give very much credence to the tiger theory. Mr. LeSouef has lent to Mrs. Heslop a cast of a tiger's foot and both she and Miss Heslop state that the impression made by it corresponds exactly to the tracks which they have seen.

In the course of his searches Mr. Heslop noticed an opening in the scrub apparently caused by the continual passing of some beast. A few hairs were adhering to the scrub and these he carefully collected and sent to Melbourne. They have been submitted to Mr. LeSouef who has been occupied comparing them under a powerful microscope with the hairs of many animals. Mr. LeSouef expects to complete his examination today but he does not regard this test as at all a satisfactory one, for he has only three small hairs and differences in many cases are infinitesimal. (The Argus, Melbourne, Vic.) 11 March 1907, p. 7 : http://nla.gov.au/nla.news-article10621491)
George Gordon Heslop entered the newly established Veterinary School at the University of Melbourne in the second intake of students and graduated LVSc in 1911 and BVSc in 1913.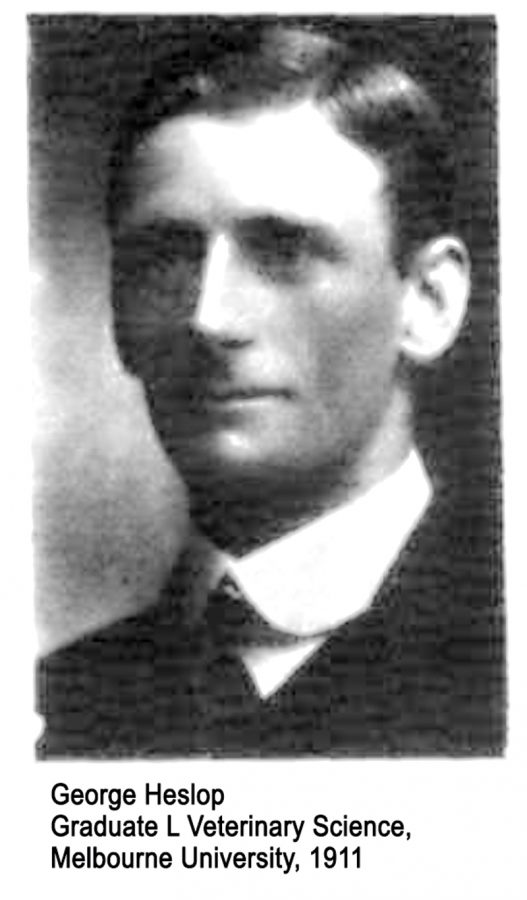 On graduation he joined the Victorian Department of Agriculture until he enlisted in the 1st AIF, where he was attached to the Army Veterinary Corps. He was the first Australian veterinarian to land at Gallipoli ten days after the main landing on 25 April. He advised that Anzac Cove was unsuitable for landing horses and arrangements were made for them to be put ashore nearby where the British forces had landed. It was planned that horses would be used in the Gallipoli campaign and there were 6,100 horses on 30 transport ships waiting to be landed. However it became apparent early in the campaign that there was little role for horses. Few were landed with most of the horses going back to Egypt. Four veterinary officers were involved for short periods during the campaign. Captain George Heslop landed at Gallopoli 10 days after the initial landing and was followed by Captains AO O'Neill, AH Robins and John Kendall. (Source: MILITARY ACTIVITIES OF AUSTRALIAN VETERINARIANS 1885-1940s: Dr Peter Mylrea)
On the battlefield George was seriously injured on the right side of his head by a horse when he was attempting to ligate a bleeding artery caused by a shrapnel wound on the horse's chest. Despite the injury, which left his sight permanently impaired, he continued to his post until evacuated to Egypt to convalesce. He then served in France with artillery brigades, an ammunition column and in headquarters appointments.
In April 1917 an Australian Veterinary Hospital was established near Calais with George as Deputy Director. The hospital could accommodate 1,250 horses and had an establishment of seven officers and 459 men. Twenty five thousand animals were treated during the eighteen months of its existence. (Source: MILITARY ACTIVITIES OF AUSTRALIAN VETERINARIANS 1885-1940s: Dr Peter Mylrea)
George was repatriated to Australia after the war in April, 1919. He was discharged with the rank of Major, having been awarded the Distinguished Service Order and Mentioned in Despatches.
While still overseas he took the opportunity to further his studies and was awarded the Diploma of Veterinary Hygiene at the University of Liverpool in 1919. On return to Australia he commenced work at the Veterinary Research Institute, with a Walter and Eliza Hall Research Fellowship in Veterinary Science. Here he began the initial studies on the serological diagnosis of contagious pleuropneumonia in cattle and was instrumental in developing a complement fixation test, which, when further developed in later years, culminated in the eradication of this disease from the cattle population in Australia in 1972. For his work he was admitted to the degree of MVSc in 1919 and DVSc in 1921. Dr Heslop resigned from this position in 1924 and was appointed one of the stipendiary stewards to the Victoria Racing Club.
This began an association with racing which extended over the next 50 years. Except for a short period in 1931-32, when he became the stipendiary steward and carried out a number of associated duties for the Rangoon Racing Club. Dr Heslop continued to act in this capacity for the Victoria Racing Club, the Melbourne Racing Club, the Victoria Amateur Turf Club, the Moonee Valley Racing Club and a number of country racing clubs until he resigned in 1946. In the meantime, he had not severed his connections with the army; he continued to serve part-time in the Australian Militia Forces until the outbreak of the Second World War. He was promoted to Lieutenant Colonel in January 1928 and at various times held the appointment so Deputy Assistant Director, Veterinary Services, 2nd Cavalry Division, and Assistant Director, Veterinary Services, 3rd Division District Base. He finally retired from the army in December 1944. In 1946 he commenced private practice in Caulfield, and although this was predominantly in small animals his main interest was still racing. He was consultant veterinarian to a number of prominent racing stables and acted as attending veterinarian at all metropolitan race meetings, at Geelong and Werribee Racing Clubs and at those clubs affiliated with the Port Phillip Racing Association, positions he held until he retired in 1974.
He was also on the panel of veterinarians that served the Royal Agricultural Society of Victoria and he served as a member of the Kennel Control Council of Victoria for a number of years, where his particular interest was Pekinese dogs. On a number of occasions he assisted the Animal Welfare League, giving his services voluntarily. He was active in the Australian Veterinary Association and was involved in the liquidation and disposal of the original Veterinary Association of Victoria and served as foundation President of the reformed Victorian Division when it became a Division of the Australian Veterinary Association in 1942. He published a number of papers, especially on his original research and showed his diverse knowledge with an article published in the first issue of The Australian Veterinary Journal in 1925 – Notes on lead poisoning 1:34-36. His article The duties of veterinary surgeons in relation to racing, Aust. Vet. J. (1935) 11:22-27 contains much that is still valid today. George Heslop was a kindly man and earned the respect of all he associated with. His vast knowledge and expertise, especially in horses, was widely acknowledged, and his advice was commonly sought in many fields but particularly in racing. His courtesy and willingness to explain difficult technical points, especially to the uninitiated, will be long remembered. Although still sprightly when he retired from active practice at 87 years of age, his physical health began to deteriorate but he retained an alert and active mind. This distinguished scientist, soldier and sportsman died peacefully on 3 February 1983. AVA News, 11 Nov 1983: 7 C.E.L http://www.vet.unimelb.edu.au/honour/heslop.html
George's younger brother William Snelling Pryce Heslop also served in World War 1 as a Lieutenant in the Australian Flying Corps.
George Heslop's Military Service
August & September 1914:
1st Field Artillery Brigade preparations at Sydney Showgrounds, including requisition of hundreds of horses from Liverpool area.
18 October 1914:
Left Port Jackson, Sydney, Australia onboard HMAS "Argyllshire"
5 December 1914:
Arrived Alexandria, Egypt – then to Mena camp
10 April 1915:
Left Alexandria on transport ship HT "Indian", arrived Lemnos 12 April. Anchored in inner harbour of Mudros – a 'great mass of shipping in this bay which was to be the rendezvous for the attack on the penninsula'.
12 April 1915:
C.O. and other officers in charge of transports taken on board HMS Queen Elizabeth in order to visit the 'theatre of operations'.
13-20 April 1915:
Exercises in landing men and horses by means of horse punts. Exercises in use of rope ladders.
21 April 1915:
All disembarkation exercises abandoned due to bad weather.
24 April 1915:
Transports leave for rendezvous and proceed to the landing in early morning – infantry ashore first and when established then the artillery.
25 April 1915:
The Landing at Anzac Cove
1 May 1915:
1st Field Artillery Brigade remained on their transport boat A16 Indian at Gaba Tepe awaiting orders.
3 May 1915:
Ordered to proceed from Gaba Tepe to Cape Helles. Arrived Cape Helles 4am, disembarked and took up position under cover, south of Krithia
31 July 1915:
---
LETTERS FROM THE FRONT. NATURE'S COLOR SCHEME.
Captain George H. Heslop, veterinary officer, a native of Preston, and son of Mr. Robert Heslop, a former councillor of the shire, writes:
My present place of residence is of a type which is in great demand in Europe just at present, and is popularly known as a "Dug-Out." From the point of view of the occupier it is not so popular as it is necessary, being but extremely uncomfortable. It has one great advantage, however, and that is you pay no rent. Everyone who can, possesses a "Dug-Out" of a kind. Such is the great advance of civilisation under the influence of Kultur: we become cave dwellers and descend to the barbarities and brutalities of the most primitive savages, ceaselessly striving to kill one another. We are fighting over fairly open country, with open ridges and rich flats, which are mostly under cultivation. Olive trees are everywhere, and almond, walnut and fig trees are scattered all over the landscape. Fruit trees, principally pears and apricots, are plentiful, and here and there are vineyards. One of the prettiest sights of all is to come upon a small field which has been under cultivation some time previously, and which at the present time is a mass of color from Spring wild flowers-daisies and red poppies, small blue star flowers, and others of various hues in one rich color scheme beautifully blended; and through it all runs a small creek, perhaps, or else a spring babbles up in one corner of the field and leaves a track easily distinguishable by the darker green of the ranker vegetation that it produces as it flows away to some lower level. It is Nature at her best. Amid such surroundings it is hard at times to realise that around you the most deadly war in the world's history is going on. I have already mentioned our close proximity to the beach. It is a great boon to be so close, for we have opportunities of indulging in the luxury of a dip. If by chance a shell should land in the water close-to where you are conducting your ablutions it only adds a zest to the whole performance. At first we were inclined to take the hint and make a hasty exit for cover. Now, more from indifference than actual bravery, we are more likely to have a sporting wager on how far off the next one will land. Every day brings with it some new experience. For instance, to-day whilst I was dressing a wound a shrapnel shell burst in the air very high up and scattered spent shrapnel bullets all around 'without doing any damage. The shell cone which contained the bullets fell through a tent cover between two men who were inside, and did nothing more than to nearly frighten them to death, and to provide both of them with an interesting scrap of conversation for a day or two. The past few days have been very strenuous ,ones, and quite sufficient to call for the best efforts from both man and beast. It is very satisfactory to know that whilst both have been severely tried they have not been found wanting. Our fellows have behaved splendidly, and it is quite impossible for me to express in words the great admiration we all feel for the men who faced and bore the brunt of the opposition with a courage and determination which could not have been excelled, and which has earned for them the sobriquet of "The White Gurkhas." Our advance still continues, and we hope before long to have our enemy well beaten. The spirit of our men is such that they will spare no effort to bring about this result. We are all quite cheerful and have no doubts whatever about the verdict."
published in the Preston Leader (Vic. : 1914 – 1918), Saturday 31 July 1915, page 3
15 Oct 1915:
Joined details at Alexandria from Cape Helles Anıtı, Eceabat, Turkey
Jan 1916:
Rejoined unit from details at Tel-el-Kebin
8 March 1916:
Transferred to 5th Division Artillery then to Headquarters; 22 Mar 1916
25 Jun 1916:
Disembarked at Marseilles
26 Aug 1916:
Attached to 13th Field Artillery Brigade
9 Dec 1916:
Promoted to Major
15 Dec 1916:
Admitted to New Zealand Stationary Hospital (130 Horseferry Road, Westminster, England) with severe chronic influenza. A letter from the AIF to George's mother on 19 January indicates that cables to Major Heslop should be addressed as:
Major Heslop,
Sick, Calpy,
Stralis, LONDON
"Calpy" was the code indicator of the 13th Field Artillery Brigade and "Stralis" that of the Australian Imperial Force Headquarters
26 Jan1917:
Sick: admitted to Cobham Hall hospital England
15 Mar 1917:
Discharged from Cobham Hall
29 Apr 1917:
Joined No2 Vet Hospital at Le Havre
1 May 1917:
Proceeded overseas to Le Havre, France from England
26 May 1917:
Vet Hospital at Calais
24 Jun 1917:
Vet hospital to 1st Division Headquarters
25 Jun 1917:
To be Deputy Assistant Director, Vet Services
7 Apr 1918:
Special mention in General W. Haig's despatches
3 Jun 1918:
Awarded DSO
28 Dec 1918:
Granted leave to 6 Apr 1919 with pay subsistence (6 bob per day)
25 Feb 1919:
Granted leave for non military employment from 28 Dec 1918 to 6 Apr 1919 with pay subsistence – to attend post graduate course in Veterinary Science at University of Liverpool
19 April 1919:
Returned to Australia onboard "Sardinia" ex England and SOS
7 Jun 1919:
Admitted to isolation ?onboard HMAT Sardinia with Acute Parotitis
4 Oct 1920:
A letter from George to AIF Base Records Officer notes change of his address from 'The Wattles", Powlett River to "Ballark" Heyington Place, Toorak ( the home of his first wife Muriel Scott's family)
10 December 1925:
Fire severely damaged a house in Hudson St. Caulfield owned and occupied by George. The property was insured for £100, while some contents, owned by Mr. E. Linton were insured for £500! The cause of the fire was unknown. In February the following year George signed a statutory declaration indicating both his 1914/15 Star & Victory medals had been destroyed in the fire of December 10, 1925. He requested a replacement, which was to cost 5 shillings & 8 pence.
(Addendum: In December 2018, a reader of this page, Mr. Greg Amos, contacted to me to say that he had bought one of George's WW1 medals online and offered to return it to me free of charge. As George's original medals were lost in the fire of 1925, this could only have been one of the replacement medals he ordered. Greg sent me pictures of the medal and said:
I am offering to return this medal to his family, you clearly value his memory. I am not wanting any money, I will enjoy just knowing the medal is back with people who appreciate its full sentimental value.
The return of this medal in February 2019 does mean a lot to me – including confirmation that there are still kind and caring people in this world. I treasure and will look after this medal but can return it to a bona fide direct descendant of George for the same reasons Greg sent the medal to me.
Thanks again to Greg for his kindness).
Horse Racing In Burma
In 1931-32 George spent nearly a year in Burma working as a racing steward at the Rangoon Turf Club. The following excerpt from an article in the Argus provides some details of his time there:
Dr G G Heslop, a former stipendiary steward of the Victoria Racing Club, who has acted as a steward for the Rangoon Turf Club, Burma, for more than a year, returned to Melbourne by the 'Ormonde' on Monday. The committee of the Rangoon Turf Club is anxious to retain his services and after a holiday in Victoria he may return to Burma. While in Melbourne Dr Heslop will enquire into the purchase of brood mares for the Indian Government's stud farm at Pyabwe. But for the oppressive humidity of the Burmese climate, Dr Heslop said he would have enjoyed his stay there very much more. Racing in Burma was not of a high standard, chiefly because the height of the horses there did not exceed 14.1, and because the standard of riding was low. The trainers were natives and with two exceptions the Jockeys also were coloured. The two white riders were N. Baker, formerly of Newcastle (NSW) and E. Mox, an American. Jockeys did not begin their careers as apprentices, as in Australia, but were granted licences after their capability had been vouched for by a trainer and their riding had satisfied the stipendiary steward. The committee of the Rangoon Turf Club numbered 12 and the stipendiary steward acted in conjunction with six members of the committee. Appeals by persons who incurred the displeasure of the steward were considered by the full committee. Most of the races in Rangoon were contested by ponies bred in. "Griffins" or imported ponies were provided for, but they were not raced against animals bred in Burma. One event, the Governor's Cup was confined to ponies 12.3 and under and was run over a mile and a half. The small performers were very hardy, and were able to carry heavy weights. Dr Heslop was greatly impressed by the "monsoon" track which is used by the Rangoon Turf Club during the monsoonal rains which usually begin in May and end in September. In this period, he said, between 150in. and 200in. of rain falls but postponement of a meeting was never necessary. The base of the track was composed of slabs of laterite, a brick coloured rock found in India and on top of the laterite there were layers of cinders, sand and grass. There was thus perfect drainage and the track would stand any amount of racing even almost immediately after rains. By the courtesy of Mr A V Hiskens secretary of the Moonee Valley Racing Club, in supplying plans, the Rangoon Turf Club had been able to make use of a false rail similar to that used at Moonee Valley. The innovation had been successful. (http://nla.gov.au/nla.news-article4500346)
George returned from Burma and on 26 September 1932, George married Muriel Gresson (nee Scott), daughter of the late Alexander Scott of Wick, Scotland and Mrs. J.C. Ware, of 'Ballark', Heyington Place, Toorak. George and Muriel were well known small dog breeders, specialising in Pekingese and they took out many honours with their dogs at various dog shows.
May, 1935: RACE STEWARD CLAIMS £487
Seeks Share In Mother's Estate
George Gordon Heslop, veterinary surgeon and stipendiary steward of the Victoria Racing Club, was plaintiff in an action before Judge Foster in the County Court today against the Equity Trustees Executors and Agency Co. Ltd., of Bourke St., to establish his claim to £487 in the estate of his deceased mother, Mary Gruber Heslop, Plaintiff claimed he paid the money in various sums at various times for and on behalf of his mother in property transactions, and asked Judge Foster for a declaration that his claims be declared proved.His His counsel (Mr N. Mitchell) said there was doubt whether the estate would be found solvent. All that Heslop desired was to share the estate on the same basis as other creditors.
CLAIM DENIED The defence was a denial of plaintiff's claim, and a claim that the money was paid by plaintiff in settlement of his in-debtedness to his mother. Mr Mitchell said that between 1914 and the middle of 1931, when Heslop was appointed Chief Stipendiary Steward to a race club in Burma, he and his mother were jointly concerned in a great number of property transactions. Before he ! sailed they drew up a general statement of the position, when it was found that his mother owed him about £2000. Details of this debt were entered in the centre pages of an exercise book, but when the book was delivered to plaintiff's attorneys after his mother's death, those pages were missing. There was no suggestion that the Trustee company or any other person had deliberately destroyed them, because a great number of other papers were also missing.
HOUSE BURNT
Unfortunately all plaintiff's documents relating to that debt were either among the missing papers, which he had entrusted to his mother, or were destroyed in a fire which burnt his house in 1925 and in which Heslop himself suffered burns in attempting to save his papers. It was doubtful now whether Heslop could establish a legal claim to that £2001 because of lack of documentary proof. The money claimed in the present action was only sums he had sent his mother from Burma when his mother's affairs were in financial difficulties as the result of the depression. Heslop returned from Burma in 1932, and his mother, who was then in ill-health, died in July, 1933. Judge Foster made the declaration sought, and entered judgment for Heslop for £412/6/10, with costs to be taxed. The judge directed that the costs shall be paid out of the estate. Mr N. Mitchell (Instructed by Messrs Green, Dobson and Middleton) appeared for plaintiff, and Mr J. A. Splcer (Instructed by Messrs Krcrouse, Oldham and Bloomfield) appeared for the defendants.
Herald (Melbourne, Vic. : 1861 – 1954), Thursday 2 May 1935, page 5
Bernborough
As a VRC stipendiary steward at the racecourses of Melbourne, George attended many champion racehorses; none of which were more highly regarded than the great Bernborough.
Beginning in December 1945, Bernborough put together a sequence of 15 successive wins, over distances from six to eleven furlongs, all with jockey Athol Mulley. His wins were characterised by his enormous courage under heavy weights, and whirlwind finishes which gave him victory from seemingly impossible positions. In the 1946 Doomben Ten Thousand he carried a mammoth 10st 5lbs (66kg). With 600 metres to run he was 23rd in a field of 26. He won by two lengths, pulling up, in record time. Athol Mulley himself would say of the horse,"He's a freak. Once he starts to wind up nothing can stop him." He was often compared to Phar Lap, in fact, Bernborough even had his admirers from that camp, such as strapper Tommy Woodcock, who said of Bernborough, "A great horse. A bulldog in a finish and too brilliant for Phar Lap in a sprint." Bernborough tore the ligaments of his near foreleg and displaced a sesamoid bone at the home turn during the 1946 L.K.S. Mackinnon Stakes at Flemington on Derby Day. Bernborough's accident horrified the record Derby Day crowd and hundreds of people, without waiting to see the finish, rushed down to the home turn, where the horse was quickly dismounted by his jockey, W. Briscoe.
Bernborough was led off the track to an enclosure near the "Little Flat," where he was immediately examined and treated by the club's veterinary surgeons, Dr G. G. Heslop and Mr E. N. Wood. No time was lost in getting the horse away from the course by float. Dr Heslop, who with Mr Wood is attending the champion, said yesterday that Bernborough quickly settled down once he returned home to F. Godby's stable. "Bernborough is doing everything to help us so far and he is a good patient," Dr Heslop said. "The horse lay down quite a lot on Saturday night, and we are encouraging him to do so. It will not only rest his injured leg, but will help to ease the strain on his other foreleg, which at the moment is carrying all the weight of his forequarters." The Argus (Melbourne, Vic; 1946, November 4) http://nla.gov.au/nla.news-article22395944
NOT YET FIT TO TRAVEL, SAYS VET:
Dr G. G. Heslop, veterinary surgeon, who has been treating Bernborough since his accident in the L. K. S. Mackinnon Stakes at Flemington on Derby Day, said last night that at the moment Bernborough was not fit enough to travel any distance. Dr Heslop saw Bernborough again yesterday morning. He said that the champion had made remarkable progress, was now putting much more weight on his injured leg, and was able to walk reasonably well in his box. The champion has been fitted with a special crutch shoe which assists his injured fetlock, but Dr Heslop said he would not hazard a guess as to when Bernborough would be fit to travel any distance. The Argus (Melbourne, Vic; 1946, December 23). http://nla.gov.au/nla.news-article22393822

After recovering from his injuries, Bernborough was sold for 93,000 guinees to movie producer Louis B. Mayer for stud duties in America. A reporter in 1946 asked George Heslop what made Bernborough a champion. "The old axiom that they gallop in all shapes and sizes is perfectly correct" said George. "Bernborough is no exception. Some racing men say that his conformation is all wrong – he's good in front but falls away to nothing behind. But there's nothing much in the conformation theory. They run measuring sticks and tape measures over some horses, and, according to figures, they are perfectly balanced. They should be champions, but most of them are duds. Then along comes a horse that doesn't make the required theoretical measurements and he's condemned, but often he develops into a first class performer. Bernborough is not pretty – there can be no argument about that – but his performances have shown him to be a champion. In my opinion it's all a matter of determination and intelligence. Bernborough obviously has intelligence and he's full of grit. Some horses have intelligence but they only use it to become quitters. Bernborough is different".
Comic Court
Another famous horse tended by George was the 1950 Melbourne Cup winner Comic Court. George examined Comic Court and declared him fit prior to his win in the 1950 Turnbull Stakes. Comic Court won the Melbourne Cup, Victoria Derby, St Leger, Caulfield & Mackinnon Stakes (twice). The racing pages of old newspapers are full of stories of George's medical inspections leading to horses running or not running in races, doping scandals, diagnosing mysterious ailments, having to destroy horses injured in races and more often, saving their lives. On a number of occasions horse owners asked George to put their horse down as there seemed no hope after a significant injury. George often refused to do so and brought the horse back to good health – although usually not to race again, of course. In 1956, a horse named 'Starfinder' became one of only a handful in history to return to racing after suffering a broken leg. During a race at Werribee in 1954 Starfinder broke his off hind leg and veterinary advice was to have him destroyed immediately. But the owners and trainer were 'so devoted to Starfinder, they decided to try to save him'.
They enlisted the help of George, the man 'who hates to destroy an animal'. George put Starfinders leg in a plaster cast and they nursed the horse in its box for 3 months. The part owner, Mr. Steele explained:"Starfinder was one of the first horses I ever bought and I had him on my farm for several years. He was a little fellow as a 2 year old and we raced him once at a picnic meeting. He became a family pet long before he developed into a racehorse. That's why we fought to save him and now, thanks to Dr. Heslop, he is as good as ever". Starfinder returned to racing and won the Kyneton Handicap as a 7 year old in 1956.
It was also in 1956 that George married his second wife, Flora Jean Judd (my great aunt and godparent) and it couldn't have been too long after their marriage that my whole family moved in with them and some of my earliest memories created!
When George Heslop first became a VRC steward in 1924, the Chairman of Stewards, Mr. W.H. Johnstone took the younger man aside: "Now that you are a steward I want to give you one piece of good advice". I imagine young George leaning forward to listen carefully to his new boss, who then said to him
…"always take your overcoat to the races in Melbourne".