Smug Thug Drug Chug
Nazi Leader Once Dangerous Drug Addict
I am able to reveal writes the Stockholm correspondent of the London 'Daily Herald' that Captain Goering the ruthless Nazi leader who has been invested with supreme power in Prussia as Hitler's Commissioner was confined for some time in a Swedish lunatic asylum as a dangerous drug addict. By his acts and speeches he is the man who has encouraged the Nazi excesses in Germany, particularly the persecution of Jews. Today I saw a photograph of a registration card from the flies of Stockholm Communal Asylum which shows that Captain Wilhelm Hermann von Goering, by order of the police, was taken to the asylum in an ambulance car on Sept. 1 1925, and remained there until November 19, 1925.  Before he was transferred to Langbro Communal Asylum he was treated in a private hospital in Stockholm. There the head nurse in the hospital told us that he became so dangerous and threatening that he could not be kept in the hospital, and they were obliged to send him to the asylum. Goering became a drug addict during the war, when he was a member of the famous Richthofen air circus. He came to Sweden in 1925 as a refugee when he was already an active Nazi. From a well-informed source I am told that Goering, while at Langbro Asylum, got hold of an iron bar and aimed a terrific blow at one of the male nurses. Another statement — which I have not been, able to verify— is that he was first sent to a private hospital because he started firing a pistol in a Stockholm street. It is also reported that he forged doctors' prescriptions to get drugs, and that he was treated in a Stockholm hospital as a drug addict as recently as 1927. Among his recent acts as Commissioner for the Prussian Ministry of the Interior was the issuing of an order to the police to
..shoot — and shoot ruthlessly at enemies of the State. He announced that he would not tolerate Marxism, would not permit Socialist trade unions, and would ban nudism. You cannot expect me to protect Jewish traitors and scoundrels, he said in a broadcast speech encouraging persecution of the Jews. If they come squealing to me for protection they will not get it.
Uralla Times (NSW : 1923 – 1954), Thursday 1 June 1933, page 6
Goering Cured Of Drugs – LONDON
Fat, medal-bespattered Herman Goering has been cured of his addiction to drugs, according to war crimes Judge Jackson's public relations officer Tom Blake.
Blake said that Goering had a suitcase holding 20,000 drug tablets when he was captured. He was then taking 20 a day. Doctors broke Goering of the habit by tapering off the doses. Blake said that leading Nazi war criminals at Nuremburg were being treated humanely but severely. Goering, Ribbentrop, Ley, Rosenberg, Frank, Streicher, von Keitel, von Papen and Jodl occupied bare, concrete cells with a name plate on the door. Door of the cell allotted to Goering, who was the Luftwaffe chief, was marked simply 'H. Goering.' Prisoners were not allowed belts, braces, ties or shoe laces. Drug habits once put Goering in an asylum in Sweden. Like the other top Nazis, he is awaiting trial for his war crimes.
Daily News (Perth, WA : 1882 – 1950), Saturday 8 September 1945, page 31
Weakness
….These personality weaknesses were due in part to the fact that Goering took hard drugs over a long period. It all started during the abortive Nazi putsch of November, 1923, in Munich. The German police fired on the Nazi cavalcade and Goering was seriously wounded in the thigh. Doctors administered morphine to ease the pain. Goering soon fell victim to the drag.
He spent three months in 1924 in a Swedish mental hospital at Langbro near Stockholm.
He came out partially cured and resorted temporarily to prayer. But he reverted to morphia and took it as well as other drugs, such as paracodeine, for the next 21 years.
There is no record of his daily dosages but the persistent evidence of those around him shows that he resorted to morphia continually. It was always available, if needed, from his personal nurse Christa Gormanns who travelled about with him. He also kept supplies in his home.
Drug addict fought spiritualist in the Battle of Britain (1970, December 17). The Canberra Times (ACT : 1926 – 1995), p. 25
The Nazis imposed very strict anti-drug laws, and threw people who took drugs into concentration camps— drug users were among those first victims of National Socialism."
Pervitin came on the market early 1938 and quickly became the drug of choice, you could say, of Nazi Germany. Methamphetamine, Pervitin, really was in vogue. It was also picked up by universities. Professors made tests with their patients with Pervitin, and everyone was raving about the drug. Also, professors would write that it was good to also test it on yourself. So they would take it themselves, and they would write that it has really great effect, and they could work for 56 hours without stopping.
Pervitin became a symptom of the developing performance society, boxed chocolates spiked with methamphetamine were even put on the market.

A good 14 milligrams of methamphetamine were included in each individual portion, almost five times the amount in a Pervitin pill. 'Hildebrand chocolates are always a delight' was the slogan of this potent confectionery.
from "Blitzed: Drugs in Nazi Germany" by Norman Ohler
Goering's final drug was, of course, cyanide.
Goering's suicide
BONN, Monday (AAP). — A letter written by condemned Nazi Reichsmarschall Herman Goering the day he poisoned himself states that he would have accepted a firing squad but rejected the indignity of hanging, Associated Press reports.
The letter, whose text was printed by the newspaper Welt Am Sonntag, said Goering decided to kill himself
….so as not to let myself be executed in this manner by my enemies. Death by shooting I would have accepted at any time, but the Reichsmarschall of Germany cannot allow himself to be hanged, the letter said.
The newspaper said Goering wrote the hitherto unpublished letter to his wife Emmy on October 15, 1946, from his cell in the Nuremburg Prison.
Addressed to "My heart's only love", it was said to have been confiscated by the Allied authorities after they found it in the former Luftwaffe leader's cell.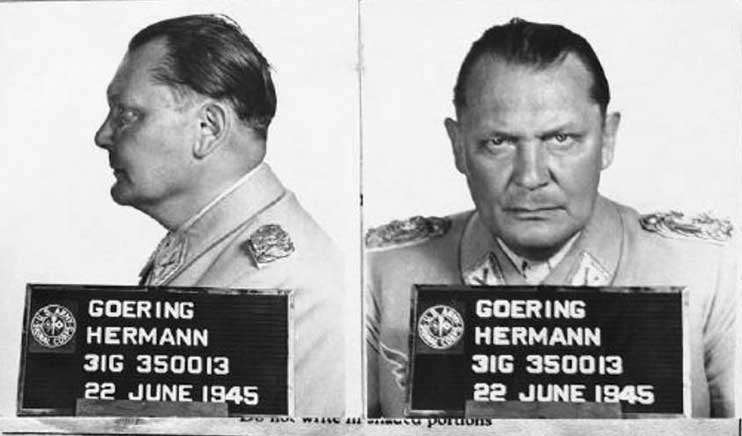 The letter also shed some light on the mystery surrounding Goering's suicide in the maximum-security prison where he was jailed with 21 other top Nazi officials convicted in the Allied War Crimes tribunals.
It indicated that he had the fatal cyanide capsule in his possession from the beginning of his captivity, thus appearing to rule out the possibility that an accomplice slipped it to him in his cell.
I take it as a sign from God that He allowed me to keep the means to free myself from all earthly ' things, through all the months of captivity, and that I it was not discovered, he wrote. God in His goodness thereby spared me the ultimate.
As an added reason for committing suicide, Goering objected to arrangements for press and film coverage of the hanging.
Sensation is the main thing, but I want to die quietly without public (witnesses), he was quoted as writing.
The second-ranking Nazi leader after Hitler was sentenced to death by hanging on October 1, 1946.
Canberra Times (ACT : 1926 – 1995), Tuesday 21 February 1978, page 4